Whitefriars
Although not strictly accurate, it is possible to use the Second World War as the change between the name James Powell & Sons and that of Whitefriars. There is some justification in this because, although the tradition of using coloured glass to accentuate the form is continued, the tendancy is toward a change in style that is recognisable as post-war.
William Wilson was the designer who linked the pre and post war with more than a passing nod toward Swedish glass design. He introduced the use of controlled bubble decoration as early as 1937, in addition to the horizonally ribbed optic pieces, which have a timeless quality. In 1954 he brought in a new colour, 'twilight', to the Whitefrairs canon, but it was difficult to produce consistently.
In 1953 he saw the work of Geoffrey Baxter at the Royal College of Arts degree show and offered him a job at Whitefriars. From 1954 Baxter designed, either his own pieces, or in conjunction with Wilson. The 1950's work combined Scandinavian style with British subtlety creating a fresh demand for the factory's work, and saw more and more of Baxter's realisation of contemporary style employing organic forms.
By 1957 Baxter was made the Chief Designer and the simple forms, whether controlled or organic, continued into the late 1960's, when, in 1967 he first introduced the now iconic textured ranges, including what is now known as the 'Banjo' vas and the 'Drunken Bricklayer'. The textured ranges were expanded, both in shape and colour, over succeeding years, and were produced until the factory closed.
During the early 1960's Whitefriars and Baxter realied that they were missing out on a potentually lucrative market that had, until then, been left mainly to the Stourbridge companies - that of clear, cut, glass. Despite some very modern looking designs, there were far more traditionally based ranges produced to compete with the opposition. It is possible that these are representative of Whitefriars beginning to lose its way pointing toward the closure of this illustrious firm and its quality and creativity in 1980.
_________________
Isle of Wight Glass
To be added
__________________
King's Lynn and Wedgwood Glass
1967 was an important time in the history of British Glass since it saw the beginning of the Studio Glass Movement in Britain, whilst at the same time two factory based glass makers began production; one was King's Lynn Glass. The Managing Director, joint owner and prime force behind the venture was Ronald Stennett-Willson.
He became the sales manager for Wuidart in 1951, another import company, that had a London agency. Wuidart imported from a number of Swedish glass companies, including Orresfors. It was this association that allowed him to appreciate the Swedish response to Modernism along with an awareness of the glass from Finland, Denmark and Holland. This was important, since it influenced his own approach to the subject of glass design, which began in the 1950's and which were produced in both Sweden and Britain.
For a short time he ran his own shop 'Choses' in Hampstead; in the same year, 1961, he was appointed Reader in the Department of Industrial Glass at the Royal College of Art, where he came into contact with a number of students who later became well known glassmakers in their own right. Having been commissioned by Gilbey's to design, and have produced, a series of glasses he found it impossible to get a British firm interested in making them, but found it considerably easier in Sweden where there was competition for the work.
These were the experiences that helped Stennett-Willson decide to establish Kings Lynn Glass in the Norfolk town of the same name in 1966. The company was dedicated to producing quality glass tableware and ornamental glass. Much of the production was highly influenced by Scandinavian style and design, but with a subtle English twist.
There were several series of candlesticks, including the Brancaster and the Sherringham ranges. The latter was particualrly interesting, since it was a range of sticks that were made with a wide candle holder set above a stem that had a ring, or series of rings, set within the stem over a wide foot. These ranged from one to nine rings and were a skilled item to make since each section had to be added and centred individually, making the nine ring into a tour-de-force of glassing making. (There was also a version with a narrow candle holder.)
Vases and bowls were simple forms often with a transparent coloured body, occasionally with textured surfaces. Opaque swirl decoration was also a feature with controlled use of speckled colours accompanied with white, such as browns and white or pinks and white.
Apart from coloured decanters and matching glasses made with a Scandinavian influence Kings Lynn produced a number of ranges of cut glass for the table. This was in the madern tradition that is now beginning to be referred to as 'Art' cut glass, since although there was obvios influence from the past there was a noticable restraint to the cutting accompanied with purposeful design.
By 1969 it was called Lynn Crystal, at which time it was bought by Wedgwood and renamed Wedgwood Glass (later Wedgwood Crystal). Stennett-Willson remained as Managiing Director and Chief Designer until he retired in 1980. The company continued to produce work designed for the earlier company as well as introducing new ranges, including designs by Frank Thrower from the early 1980's.
________________
Dartington
To be added
__________________________


Below are examples of British Post War glass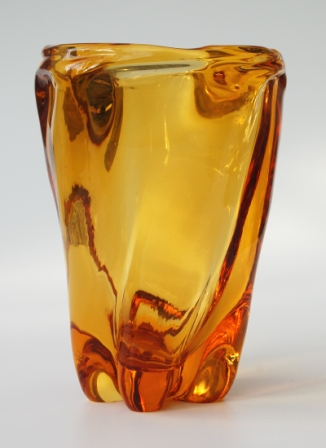 Whitefriars Golden Amber spiral-twisted vase designed by William Wilson, c1954
We always hold extensive stock of British post-war glass, including Whitefriars, Vasart, Kings Lynn/Wedgwood, Dartington, Isle of Wight and glass by Michael Harris, and Studio glass. Should you be interested in purchasing anything from these manufacturers or designers, please